IMPORTANT
Do NOT format mTiny on Mac book, doing so may cause damage to the robot.
1. Prepare for the update
A computer with USB ports

USB cable in the product package

Paired mTiny with the tap pen controller
(with at least 50% battery level)
2. Click here to download the firmware update package
3. Use the USB cable with the mTiny icon to connect mTiny to the computer


4. After the connection is established, the computer will recognize mTiny's disk. Open it, and you will see a folder named "system"

5. Right-click the folder "system" and select "Delete" to remove the folder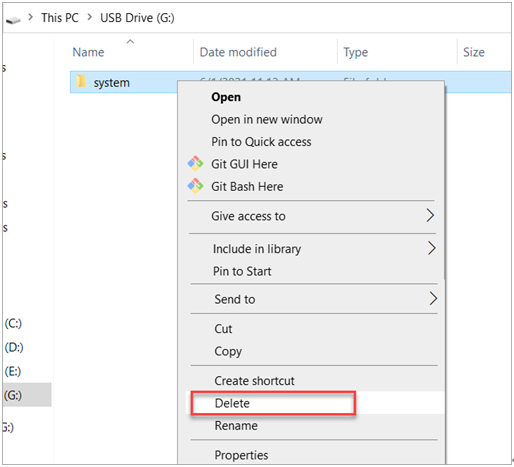 6. Extract the update package. In the extracted directory, find the folder named "system" and the file "audio_mcu_firmware.MVA". Copy and paste the folder and the file into the root directory of mTiny's disk


7. Click "Eject" to disconnect mTiny from your computer and remove the USB cable from mTiny
8. Restart mTiny and the tap pen controller, and the update will start automatically.
The update might take 3 to 5 minutes.
There will be a prompt sound when the update is done.
Note:
During the update process, mTiny will automatically check its connection with the tap pen controller and the current battery level. The update might stop if the conditions are not met. If the process stops, please pair mTiny with the tap pen controller again or charge the battery.
---