About Arduino
Arduino is an open-source electronics platform based on easy-to-use hardware and software. It's intended for anyone making interactive projects. The Arduino development environment makes it easy to write code and upload it to the I/O board. You can use Arduino language (C\C++) to interace with Arduino hardware.
Set Arduino
Get Arduino IDE and Makeblock program library
Login Arduino's official website to download Arduino IDE:
https://www.arduino.cc/en/Main/Software
You should download the installation package for corresponding operating system (Subject to the latest version).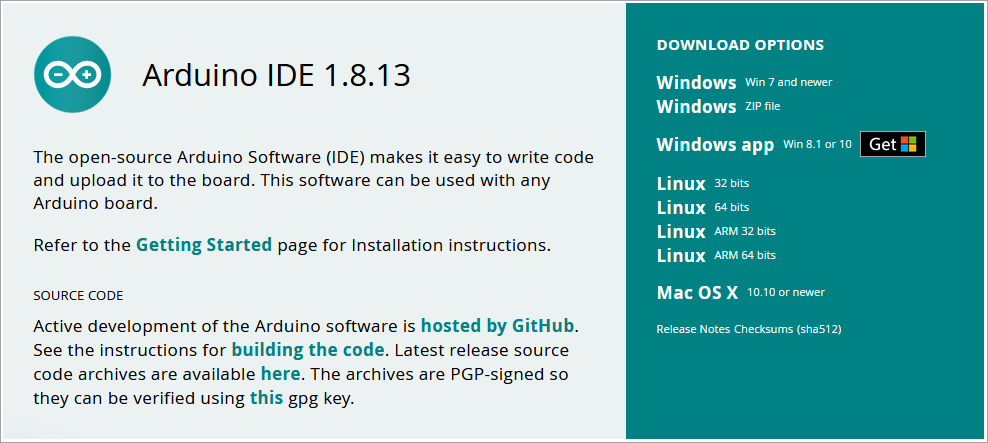 Install the Makeblock libraries
1. Download Makeblock library functions:
https://github.com/Makeblock-official/Makeblock-Libraries/archive/master.zip
2. Decompress the makeblock folder in the zip to the Arduino default library.Your Arduino library folder should now look like this:
[arduino installation directory]\libraries\makeblock\src
[arduino installation directory]\libraries\makeblock\example
….

[arduino directory]\Contents\Java\libraries\makeblock\src
[arduino directory]\Contents\Java\libraries\makeblock\example
…
3. Open the Arduino Application. If already open it, you need to restart to see changes.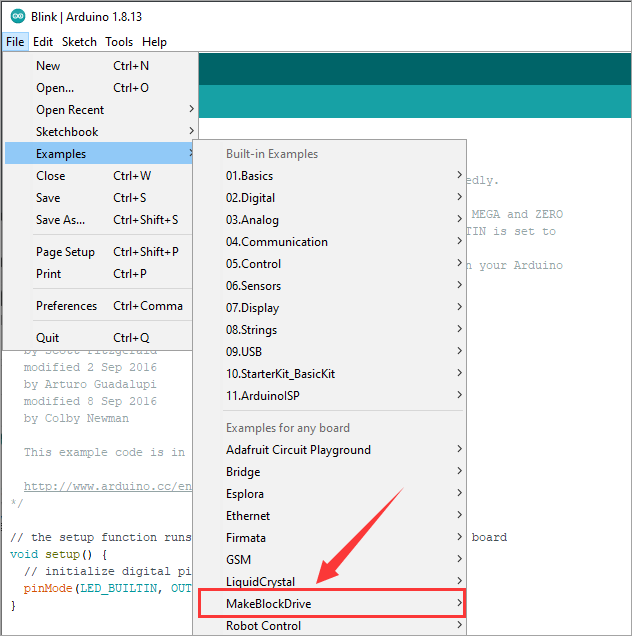 Install the driver
If the driver is not automatically installed on your computer, you can install it manually.
A simple example
In this example, we update the firmware of mBot Ranger.
1. Connect mBot Ranger to your PC with a USB cable. In the Arduino IDE, choose File > Examples > MakeBlockDrive > Firmware_for_Auriga.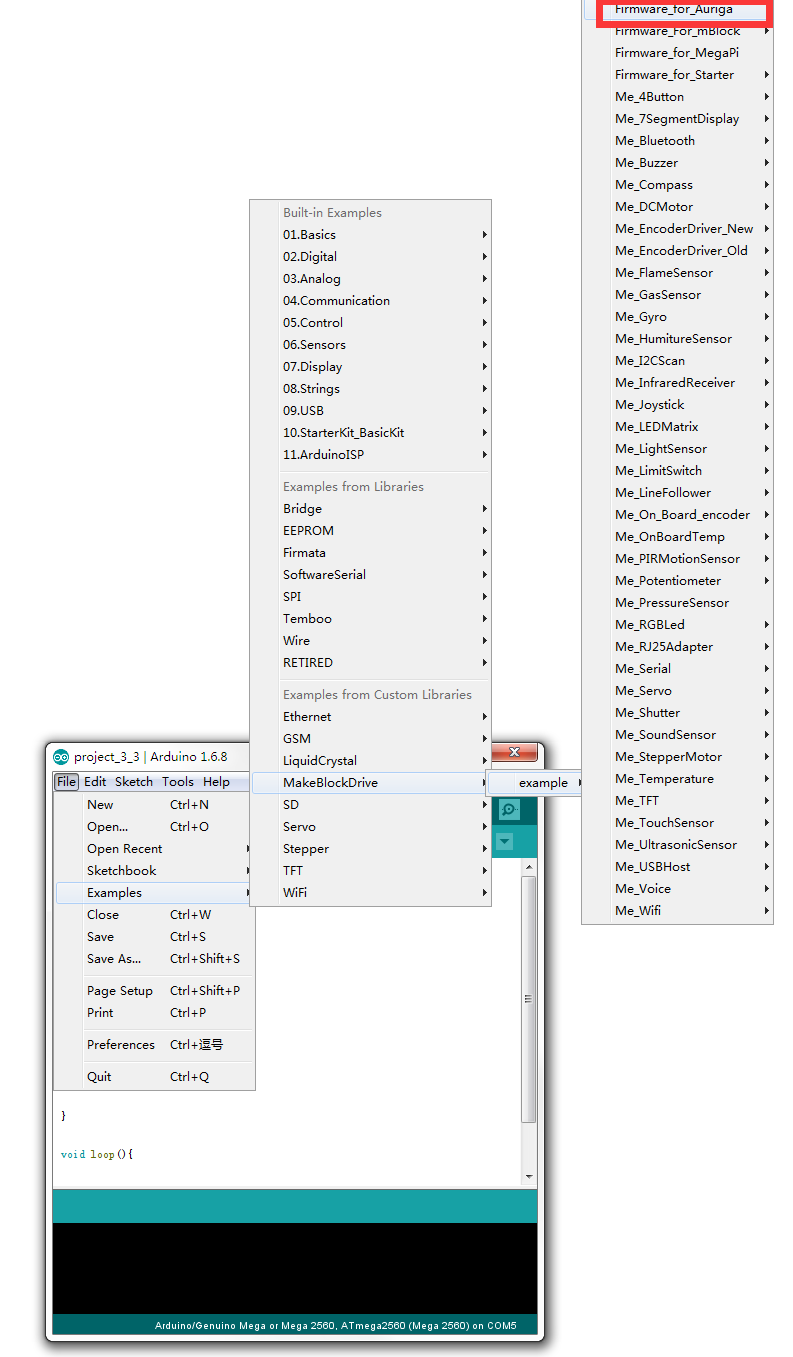 2. Choose the board type and COM number.
Makeblock Auriga — Choose Arduino Mega 2560
Makeblock Orion — Choose Arduino Uno
Me Baseboard — Choose Arduino Leonardo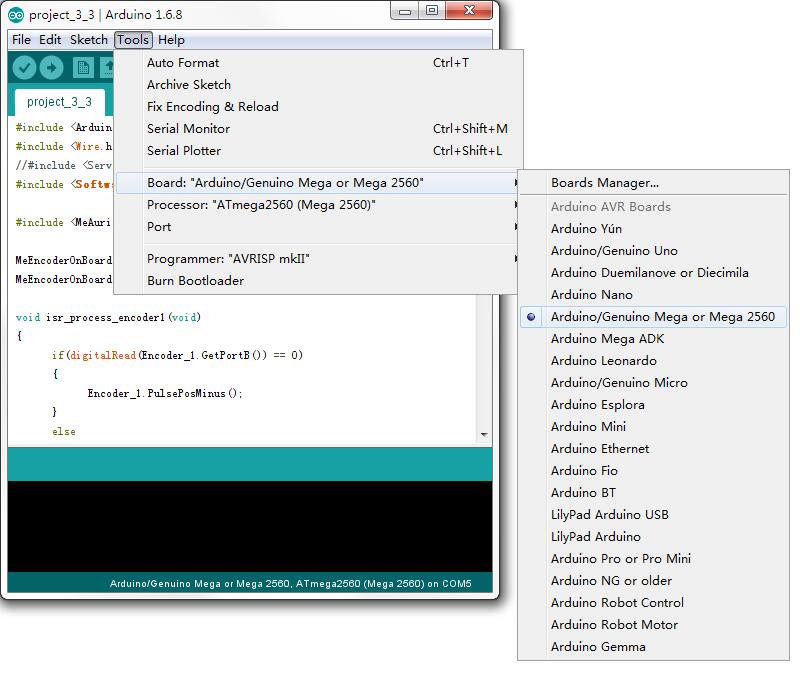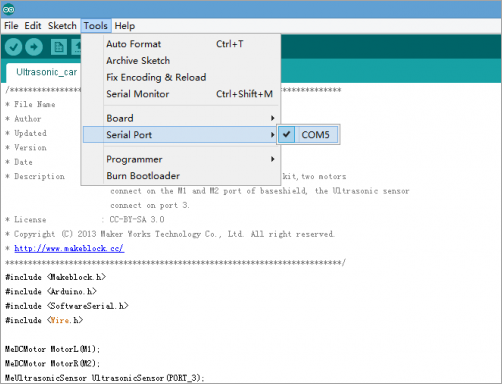 3. Click the Upload icon to compile and upload the code.
After the uploading is complete. The message "Done uploading" is displayed.
You can view some other test programs to learn coding before you create your own projects.
References
Getting Started with Arduino
Makeblock Library: visit Github